As you know, rent had skyrocketed in our area and all of the United States. But recent stabilization of rent prices has provided some great opportunities for current renters to save for a down payment towards homeownership.
Just last week the Joint Center of Housing Studies of Harvard University released America's Rental Housing 2020 Report. The results explain the financial challenges renters are experiencing today,
"Despite slowing demand and the continued strength of new construction, rental markets in the U.S. remain extremely tight. Vacancy rates are at decades-long lows, pushing up rents far faster than incomes. Both the number and share of cost-burdened renters are again on the rise, especially among middle-income households."
The most recent Zillow Rent Index shows rent now stands at a median of $1,600 per month. Here is a visual showing  how the index's median rent values have climbed over the last eight years: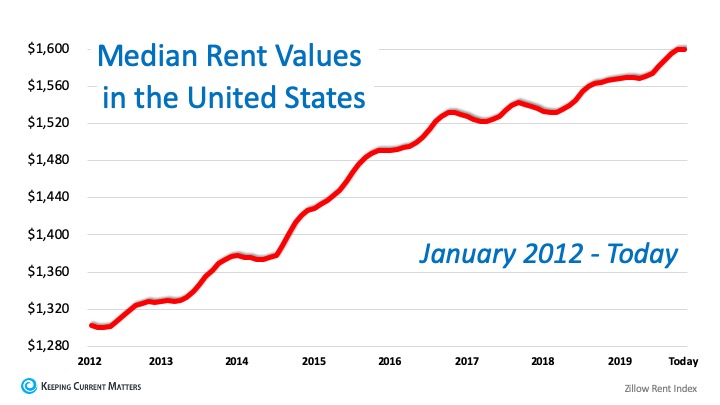 Is there good news coming? Read the full article here to find out Great News for Renters Who Want to Buy a Home.
– Justin
The Full-Time Real Estate Agent